Celebrate this new annual holiday with us in honor of all of our ancestors,
the people continuing the struggle today and future generations.
Berkeley


INDIGENOUS PEOPLES DAY
POW WOW & Indian Market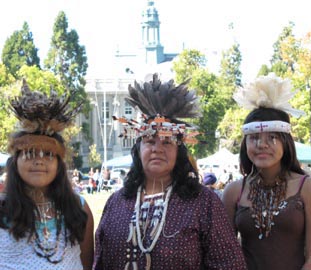 21st Annual Celebration
1992-2013
Saturday, October 5, 2013
10am - 6pm
FREE
Martin Luther King, Jr. Civic Center Park
Berkeley CA.
Martin Luther King, Jr Way, between Alston Way & Center Street
(2180 Milvia St)
1-1/2 blocks west of the Berkeley BART Station
Exhibition Dancing 10:00 am
Gourd Dancing 11:00 am
Grand Entry 12:00 noon
Closing Ceremony 6:00 pm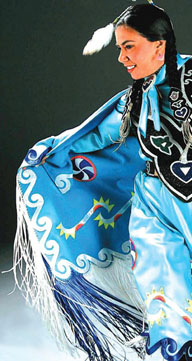 Contest Dancing: All Categories
Intertribal Dancing

Featuring Native California dancers.

Native American Foods and Arts & Crafts
all day at the Indian Market

All Traditional Drums are Invited

Raffles all day till 6 pm.


HEAD STAFF 2013

Head Man Dancer:  

TBA


Head Woman Dancer: 

TBA




M.C.:

 TBA
Arena Director:  TBA
Host Northern Drum:  

TBA


Host Southern Drum: 

TBA




Head Gourd Dancer:

 TBA
Head Judge: Shar Sukie 

TBA



Pow Wow Coordinator: 

Gino Barichello (Mvskoke Nation of Oklahoma)


Vendors Coordinator: Hallie Frazer (Inka)





CELEBRATE THE NEW HOLIDAY



The 20th Anniversary Celebration, in honor of the earth,
continuing the traditions today,
for all our ancestors and future generations.

Sponsored by the City of Berkeley * Wheelchair Accessible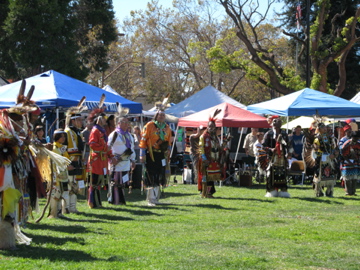 FOR MORE INFORMATION PLEASE CALL: 510-595-5520
Indigenous Peoples Day Committee:
Box 97, 1700 Shattuck Avenue, Berkeley, CA 94709
Email:
info@ipdpowwow.org
or
ipdpowwow.berkeley@gmail.com
Vendor booths are available by reservation only and are not assured by a first-come-first-serve policy.

No drugs or alcohol. Indigenous Peoples Day Committee is not responsible for lost or stolen articles.

Contact: Indigenous Peoples Day Committee or Indigenous Peoples Day Vendors Coordinator

---
The History of Berkeley's Indigenous Peoples Day
Indigenous Peoples Day Committee
Who We Are
Mission Statement

Indigenous Peoples' Day & the Pow Wow Highway
the new holiday & the pow wow tradition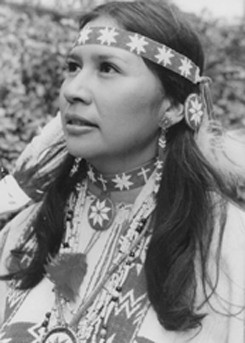 Millie Ketcheschawno
Life of an Activist, a founder of Indigenous Peoples Day

Mark Gorrell

Environmentalist and Architect
A Founder of Indigenous Peoples Day
Columbus in the Bay of Pigs
The beginnings of the European Invansion and Indigenous Resistence