Berkeley


INDIGENOUS PEOPLES DAY
POW WOW & Indian Market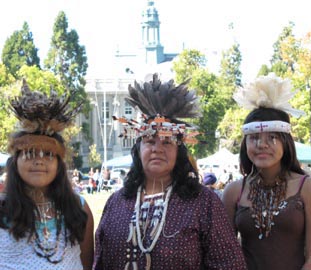 21st Annual Celebration
1992-2013
Saturday, October 5, 2013
10am - 6pm
FREE
Martin Luther King, Jr. Civic Center Park
Berkeley CA.
Martin Luther King, Jr Way, between Alston Way & Center Street
(2180 Milvia St)
1-1/2 blocks west of the Berkeley BART Station
Exhibition Dancing 10:00 am
Gourd Dancing 11:00 am
Grand Entry 12:00 noon
Closing Ceremony 6:00 pm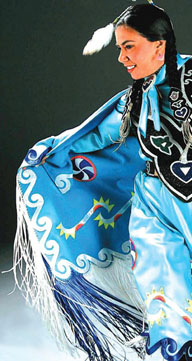 Contest Dancing: All Categories
Intertribal Dancing

Featuring Native California dancers.

Native American Foods and Arts & Crafts
all day at the Indian Market

All Traditional Drums are Invited

Raffles all day till 6 pm.


HEAD STAFF 2013



M.C.: ............................

 

  Tom Phillips, Sr. 

(Kiowa/Creek)


Head Man Dancer: .......   

Robert LeRoy (Omaha/Ponca)


Head Lady Dancer: .....    

Ellen DeRoin (Otoe Missouria/Choctaw)


Arena Director: ........... 

 

  Henry Johnson (Paiute)


Head Gourd Dancer:

 ...    Rogelio Santillan 

(Navajo/Purepecha/French)




Head Northern Drum: .    

Swift Cloud


Head Southern Drum:

 .    Bear & Co.
Contest Coordinator: ..   

Aneka Johnson


Color Guard: ...............   David Romero 


Security: ..................... 

  Sober Spirits
Pow Wow Coordinator:  

Gino Barichello (Mvskoke Nation of Oklahoma)


Vendors Coordinator: .   Hallie Frazer (Inka)




CELEBRATE THE NEW HOLIDAY



The 21st Annual Celebration, in honor of the earth,
continuing the traditions today,
for all our ancestors and future generations.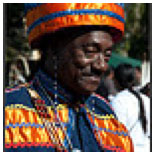 This Year's Pow Wow is dedicated to the memory of


Don Littlecloud Davenport

.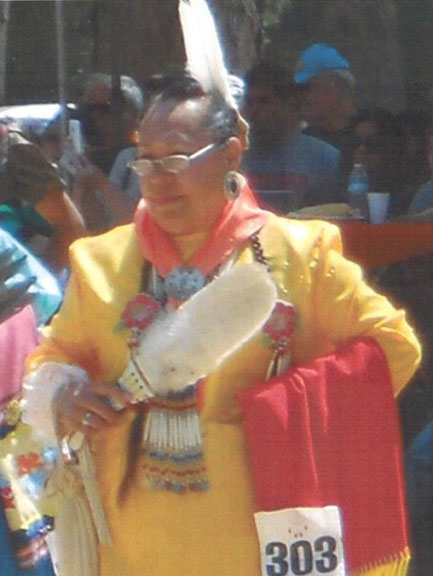 Head Lady Dancer M'Liss DeRoin
is of the Otoe-Missouria and Choctaw Tribes of Oklahoma. She has been a part of the Bay Area Native community since her parents moved to San Jose from Red Rock, Oklahoma during the Relocation Act in the 1950s. For most of her life she has traveled with her family to pow wows, dancing and making regalia. "Being a part of these various social gatherings has helped us grow as a family and experience many different opportunities within our community." As a graduate of San Francisco State University, she has worked for over 20 years as a Counselor/Social Worker. She is currently a board member of the American Indian Alliance Community Organization, which is committed to support native families with holiday dinners/fund raising events throughout the year. Her daughter Niko DeRoin is a Southern Traditional Dancer, currently in school in Albuquerque, New Mexico.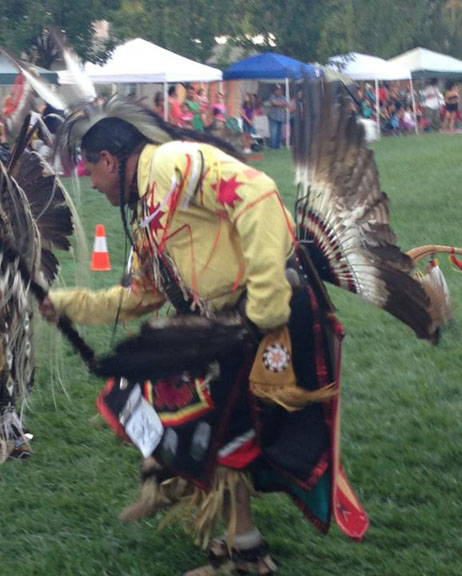 Head Man Dancer Robert LeRoy

is of Omaha and Ponca descent, from Macy, Nebraska. He is 51 years old, and was born in Ponca City, OK. "Pow wows help increase people's awareness, allowing them to see and experience new things," Robert said in an interview with Palo Alto Online. "It's less a competition and more of a gathering—meeting old friends and making new ones." His son, Robert LeRoy, Jr. is also an accomplished pow wow dancer.


Sponsored by the City of Berkeley * Wheelchair Accessible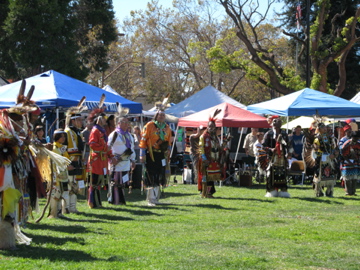 FOR MORE INFORMATION PLEASE CALL: 510-595-5520
Indigenous Peoples Day Committee:
Box 97, 1700 Shattuck Avenue, Berkeley, CA 94709
Email:
info@ipdpowwow.org
or
ipdpowwow.berkeley@gmail.com
Vendor booths are available by reservation only and are not assured by a first-come-first-serve policy.

No drugs or alcohol. Indigenous Peoples Day Committee is not responsible for lost or stolen articles.

Contact: Indigenous Peoples Day Committee or Indigenous Peoples Day Vendors Coordinator

Downloadable pow wow flier: pdf file HERE