Celebrate this annual holiday with us in honor of all of our ancestors,
the people continuing the struggle today and future generations.
Berkeley


INDIGENOUS PEOPLES DAY
POW WOW & Indian Market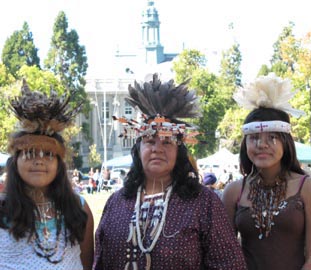 29th Annual Celebration

1992-2021
Monday, October 11, 2021
4 - 6 pm PacificTime


Due to COVID and with concern over the California fires,
we were virtual for the second year.

MCs:
Randy Pico, Luiseño
Aurora Mamea, Blackfeet
Special Guest Co-MC Elaine Miles, Umatilla


The 2021 pow wow is now on our YouTube channel.

WATCH HERE:

https://bit.ly/3lhKOME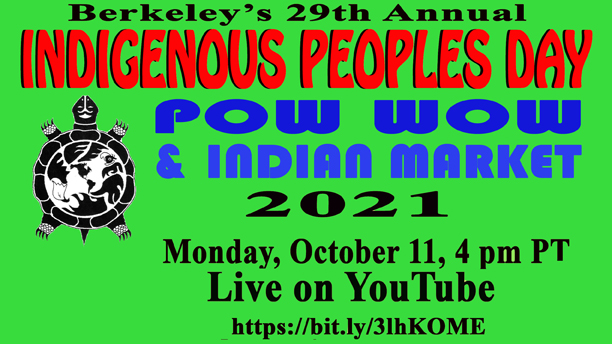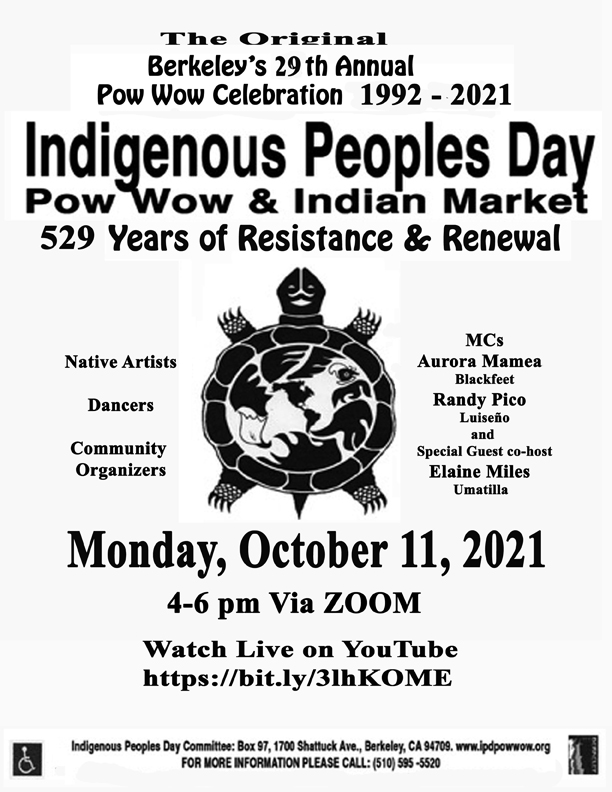 We are heartbroken not to be coming together in community this year, but
we look forward to seeing each other in person as soon as it becomes safe.
We keep all of you and your families in our hearts and prayers through these difficult times.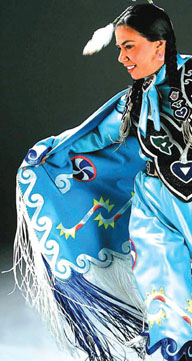 Why: In 1992 a small group of Native
Americans and their staunch allies gathered
to shed light on the error of Columbus day and
to encourage adoption of that date as
INDIGENOUS PEOPLES DAY. 



CELEBRATE THE HOLIDAY



OUR 
2020 CELEBRATION  
IS ON YOUTUBE:
THE HISTORY & MEANING OF INDIGENOUS PEOPLES DAY
WATCH HERE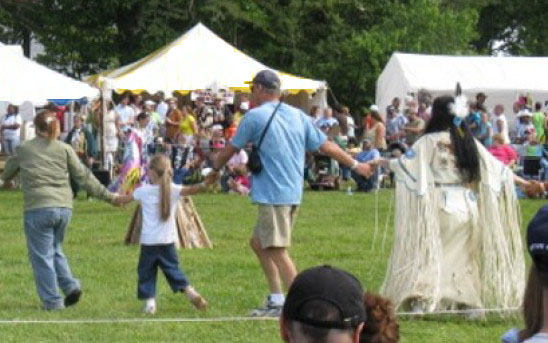 ROUND DANCE
EVERYONE IS INVITED TO DANCE WITH US
IN ALL THE ROUND DANCES!!!


Letter to Vendors HERE

Vendors Booth Applications
downloadable HERE.



Sponsored by the City of Berkeley * Wheelchair Accessible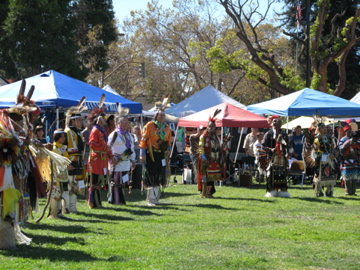 FOR MORE INFORMATION PLEASE CALL: 510-595-5520
Indigenous Peoples Day Committee:
Box 97, 1700 Shattuck Avenue, Berkeley, CA 94709

General information: info@ipdpowwow.org

Vendors: vendors.pdpowwow.berkeley@gmail.com




Vendor booths are available by reservation only and are not assured by a first-come-first-serve policy.
No drugs or alcohol. Indigenous Peoples Day Committee is not responsible for lost or stolen articles.


Contact:
Indigenous Peoples Day Committee or Indigenous Peoples Day Vendors Coordinator

Video of 2016 Indigenous Peoples Day Pow Wow
Indigenous People's Day, Powow at Berkeley, CA from Hugo Andreatta Jucá on Vimeo.

2019 FLYER downloadable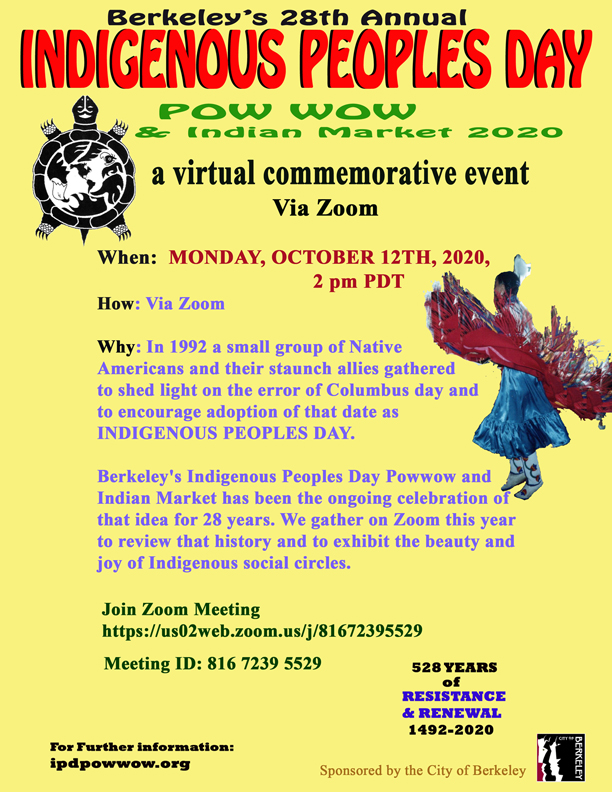 ---
Now Available
OUR NEW BOOK
Just $12
Buy a Copy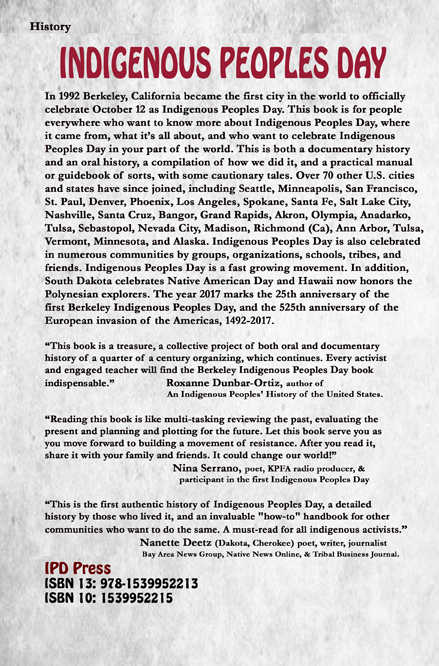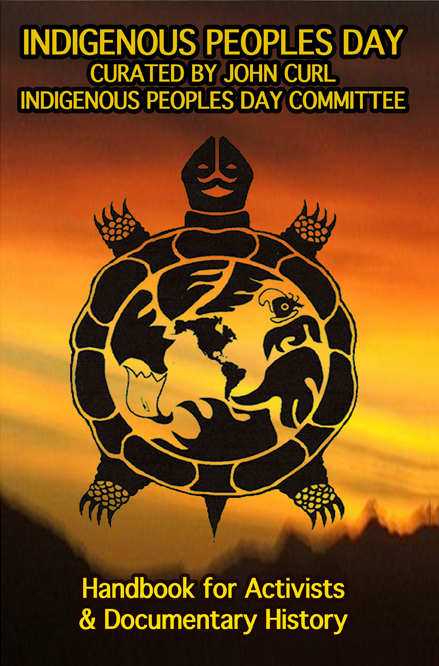 ---

---
The History of Indigenous Peoples Day
Indigenous Peoples Day Committee
Who We Are
Mission Statement

Indigenous Peoples' Day & the Pow Wow Highway
The Holiday & The Pow Wow Tradition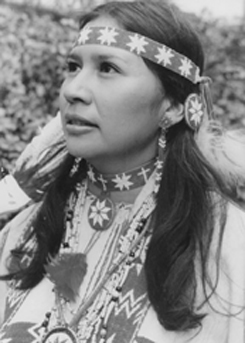 Millie Ketcheschawno

Life of an Activist, a founder of Indigenous Peoples Day

Mark Gorrell

Environmentalist and Architect
A Founder of Indigenous Peoples Day
Columbus in the Bay of Pigs
A Poem of
The beginnings of the European Invansion and Indigenous Resistence